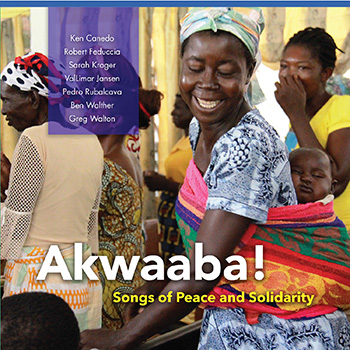 "For I was hungry and you gave me food, I was thirsty and you gave me drink."  
—Matthew 25:35 
In partnership with Catholic Relief Services (CRS), seven Spirit & Song/OCP composers went on a goodwill tour of Ghana, praying and singing with people in their communities and listening to their stories of struggle and triumph. This life-changing experience inspired this album of new songs about the social justice teaching of the Catholic Church. 
Offering a unique blend of styles and genres, Akwaaba! Songs of Peace and Solidarity brings together music from Ken Canedo, Robert Feduccia, Sarah Kroger, ValLimar Jansen, Pedro Rubalcava, Ben Walther and Greg Walton, along with contributions from Frank Jansen and Ted Miles. 
This universal collection features songs and sounds of everything from contemporary Christian and lively gospel to Hispanic rhythms and vibrant African percussion. Opening up the album, "Akwaaba! Welcome!" is sure to find a home in any community looking for singable music for their multicultural assembly. Its call-and-response style is reminiscent of the music that the composers heard in the streets and churches of Ghana. 
In an effort to continue giving back, a portion of the proceeds from the sale of the CD and MP3 album will support the work of CRS in empowering people in developing nations and in nurturing peace.